WELCOME TO NEURUM CREEK BUSH RETREAT
CAMP GROUNDS & CAMPING SITES IN QUEENSLAND...
Neurum Creek Bush Retreat and Campground gives you access to the most stunning camping sites in South East Queensland, Australia, bordering the D'Aguilar National Park (Mt Mee).

Camping, Caravanning, Motorhome, Camper Trailer or Swag, you're all welcome at Neurum Creek Bush Retreat. Stay for a few days or more, or come for a day visit. Ideal relaxation retreat in which to kick back from the rush and bustle of city life.

Neurum Creek Bush Retreat is a privately owned and operated business, as such you must register at the office upon arrival, whether you are camping, staying for the day or just wanting to have a look around the retreat.

Neurum Creek Bush Retreat is less than 75 minutes travel from Brisbane or the Sunshine Coast and only 120 minutes from Toowoomba or Kingaroy. We reside in the Somerset Shire.

We are close to Lake Somerset and the Stanley River (ten minutes). The township of Woodford is a twelve minute drive away while Kilcoy is just a couple of minutes more.

Both these towns offer friendly service and advice and are able to cater for your needs be it food, refreshments, fuel etc. The site of the famous "Woodford Folk Festival" is only fifteen minutes away.
Your hosts on site...

Your hosts at Neurum Creek Bush Retreat are Simon and Tracey who reside on the property with help from their son Bailey so they are never too far away.

Their aim is for you to have a hassle free break, to enjoy your stay and to go home feeling that you want to come back and visit with us again.

They are able to provide you with help or advice, whether it is with your camping site, set up or for local information of where to go and what to do on this property, or in the surrounding district.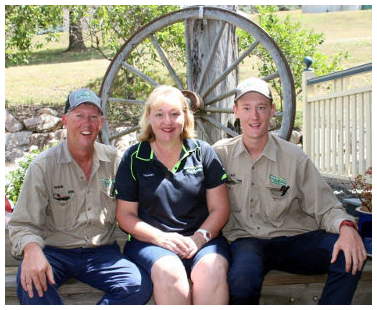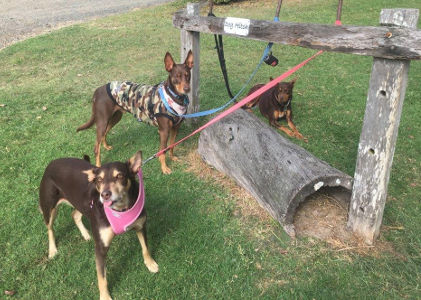 Dog Friendly Camping
in Queensland...
Take your family dog with you on your next camping trip in Queensland and come to Neurum Creek Bush Retreat. Your pet dog will be able to enjoy the holiday with the family and the family will be able to enjoy the company of their beloved pet.

Our retreat is dog friendly and we encourage you to bring your furry little friend with you as it can be a very enjoyable experience.
A little about us...
Neurum Creek Bush Retreat is 312 acres (127 hectares) with 1.5km of creek frontage. At Neurum Creek Bush Retreat, we take exceptional care to ensure that your visit is nothing but enjoyable!

We have regular events during the year with cooking, music and wine tasting. Ask us about our facilities and catering equipment for your next birthday party or special event.

It is also a kid's heaven. Kids can bring their bikes, canoes, and they can even go bushwalking.

To make your stay even more enjoyable, each site has a fire ring so that you can have a camp fire and do some camp oven cooking! And for your peace of mind, there is always one of the team available to 'lend a hand'.