Activities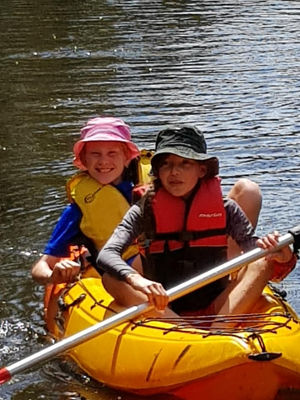 Canoeing (B.Y.O. Canoe)
Lots of fun can be had with canoes (even when the creek is only trickling). For the enthusiast, you can travel around 2km up Delaneys Creek from the Wallaby Waterhole, or over 1km north in Neurum Creek from the Platypus Pond (the creek is subject to seasonal rise and fall so check with us prior to bringing your canoe).
Swimming
The all time favourite of the kids, the "Shady Waterholes" are great for water fun and exerting energy. (Parents must supervise their own children.) The waterholes are subject to rise and fall over the various seasons.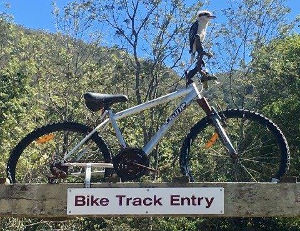 Bikes (B.Y.O. Bike)
There are approximately 2 kilometers of roads within the retreat, plus many tracks for riding. (Helmets and road rules apply to all.) Enthusiasts can venture into D'Aguilar National Park (Mt Mee) and visit the rock pool waterhole quite easily by bike. In addition to our normal roads, we have a bike track where hours of fun and tonnes of energy will be put in by the kids!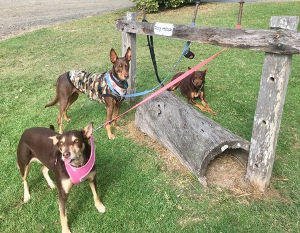 Dog Friendly Camping
Neurum Creek Bush Retreat is a dog friendly camping site and you are welcome to bring "Fido" along as long as you observe a few fundamental rules. Dogs must be kept tethered or leashed at all times whilst in and around the campground. No dogs are permitted to enter the amenities blocks or office/shop. Please use dog hitches. Dog owners must remove, pick up and dispose of any dog droppings in plastic bags and place in rubbish bins. Owners are responsible for any damage caused by the dogs and you must control barking at all times.
Fun Games / Kids Entertainment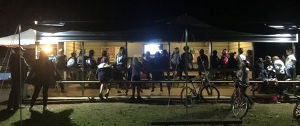 Why not challenge your kids to a game? We have many great games for all different ages. You could try out your family skills at Boccee. This is a fun game and you can borrow a Boccee set for free from the office. Other games that can be borrowed for free from the office include: badminton, cricket, skipping ropes, various balls, frisbees and hoola hoops.
Fun activities for all the kids include:
Kids Movies

Bike Track

Discos

Face Painting

Snow Cones

Ice Creams

Colouring Competitions

Treasure Hunt
* Some items listed above may require an additional cost. Some items listed above may not always be available.

Birds, Butterflies and Botany
More than 80 different birds have been identified on the property; a list and pictures are available at the office. Butterflies abound during the late summer, autumn and early winter months.
There are vegetation communities that are regionally significant, not to mention a large specimen "Ficus Virens" a rare deciduous Fig. The more well known trees are Silky Oaks, Red and White Cedars, Bottle-Brush, Grevillea, Guava and Bush Lemons and more. All are putting on a show at different times throughout the year.

4WD Motorbike Recreation at D'Aguilar National Park
While 4WDing and Motorbike riding is not allowed on the property, D'Aguilar National Park (Mt Mee) is just 3 Kms along Rasmussen Road, offering endless tracks and trails for the enthusiasts. Permits are not required but all vehicles (cars and bikes) must be registered and Drivers/Riders must be licenced. Maps are available from the office/shop. (No dogs are allowed in the National Park.)
No Mini Bikes
Mini Bikes (motor driven) and un-registered trail bikes are strictly NOT ALLOWED to be ridden on the property and must be kept on transport vehicles at all times. ZERO TOLERANCE APPLIES. Registered trail bikes with licensed riders may be ridden at walking pace only from campsite to property entrance.